GETTING TO THE CORPS OF FITNESS ...
MARINE CORPS, THAT IS!
By Mark Wells
Published inthe January/February 2003 Issue of Memphis Lawyer magazine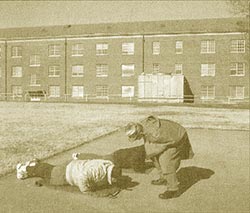 Tony Ludlow giving encouragement to recruits.
Time: 0520. Location: the empty outdoor basketball court, U of M main campus. In the silence of early morning, the battle is about to begin. There are no despots to conquer, no evil empires to crush, or terrorist regimes to overthrow. This is a battle for personal pride, achievement, and, well, victory over slackerism! USMC Fitness BOOT CAMP, a Marine Corps style fitness program under the direction of former Marine Drill Instructor Tony Ludlow is about to wage war on fat, sloth, and laziness. By 0530 the basketball court is filled with "recruits" eager for the training that will leave them spent, yet energized, for their day.
USMC Fitness Boot Camp, in operation here in Memphis since August 1999, has grown steadily since then. In addition to the Monday through Friday 0530 to 0630 PT (physical training) session, there's also a PT session at 1 PM and another at 6 PM
Who joins Boot Camp?
"I am a 44 year old and the mother of a one year old. When I became pregnant, I was not in very good shape at all. I gained about 40 lbs. during my pregnancy. In July of 2002 a friend of mine told me that she and another friend were going to do something 'crazy' and asked if I would like to join her. She had signed up for 'Boot Camp'. I started on August 1, 2002 and after a month, Boot Camp had become part of my life and I HATED to miss! Since then, I've lost weight and I have run and completed three 5K's! Boot Camp is definitely the exercise program for me. I need accountability when it comes to exercise. I have joined and dropped my membership at several gyms. Tony is awesome! We all get weekly Boot Camp e-mails that are very encouraging and helpful with great motivating tips on diet and lifestyle. And the people I have met at Boot Camp are great! There is every type of person you can think of in the group, from varying backgrounds: male and female, all age groups, all levels of fitness! Getting back in shape has truly changed my life," said Recruit Amy Morad.
The program alternates between a day of cardio and a day of quick-paced strength and conditioning that also includes dumbbell weight training. Each workout begins with a group warm-up and a stretching routine that incorporates a variety of movements including yoga type stretches. After the warm-up and stretching, "The Platoon" attacks whatever is on the training schedule for that day. Roll is called at the end of each workout and harassing emails, pestering phone calls, and even a personal harassment visit by the DI often plague the recruit who slacks off. Members of "The Platoon" come from all walks of life and every level of fitness. Some join wanting to lose 20 pounds. Others join because they want a new fitness challenge. Most join and stay in the Program, jokingly comparing it to the Mafia!
"Tony's personality is what makes Boot Camp work. It's the right mix of taunting, machismo "you can do better than that" motivation and laugh out loud "can't believe he said that" clowning around. You're there because he makes you believe you can do the same stuff The Few, The Proud, The Marines do. (And because you fear what he might say about you if you don't show up.) Boot Camp makes my day!" says graphic artist Jay Purdue.
USMC Fitness Boot Camp is offered 51 weeks a year, Monday through Friday, rain or shine, three times a day. Asked why he doesn't take the class indoors, Ludlow remarked: "Boot Camp isn't for everyone. And neither is adventure. And that's the point. I didn't design Boot Camp for everyone. I hear the reasons why it's not for everyone. 'Tony, it's too hard.' 'Tony, it's too hot.' 'Tony, it's too cold.' 'Tony, 5:30 is too early.' 'Tony, you're too extreme.' blah blah blah .... "
"But the benefits of Boot Camp go beyond the physical. Instead of quitting, recruits reach down deep and find the motivation to carry on. That sense of accomplishment changes people. That boost in self-esteem is the fuel that makes a difference in your life beyond Boot Camp. Personal pride is a great motivator!"
Many "recruits" have been in the program since 1999. People join for a month but stay. Retention is high. Asked why he thinks Boot Camp is addictive, Ludlow explained: "Our generation is physically soft and mentally weak. I personally don't think much of the accumulation of money or the trappings of consumerism. (And this comes from a guy who once made six figures.) Advertisers have us enslaved. I'm not impressed by perceived social status or pseudo-intellectualism. (And this from someone with two master's degrees and 12 hours toward a Ph.D.) I'm impressed with what's on the inside of someone. Particularly a strong sense of self-discipline. I admire people who LIVE!"
Ludlow likes to quote from one of his favorite poems, Tennyson's Ulysses,
"I am a part of all that I have met;
Yet all experience is an arch wherethrough
Gleams that untraveled world, whose margin fades
For ever and for ever when I move.
How dull it is to pause, to make an end,
To rust unburnished, not to shine in use!
As though to breathe were life! ..."
Remarkably, the 5:30 AM session is the most popular. "When I dismiss the 0530 Platoon," said Ludlow, "I tell the people to have a great day, thumb their nose at the slacking world ... and don't forget, 'you've accomplished more already than most people will accomplish all day.' Instilling pride, achievement, and self-discipline makes Boot Camp unique."
Think you'd like to join the few, the proud? Are you interested in finding out more? You can contact "Gunnery Sergeant" Ludlow at (901) 683-2648 or send an inquiry by email to: tonyludlow@aol.com