Military Fatigue: Iraq Vets Find Work Shaping Up Urbanites
'Boot Camps' for Fitness Set Seek More Authentic Air; 'Who Said Water Break?'
By AMY CHOZICK
Staff Reporter of THE WALL STREET JOURNAL
October 15, 2005; Page A1
When Ruben Belliard finished his tour of duty in Iraq, he was happy to find an employer who valued the skills he honed in the U.S. Marine Corps.
Now, six mornings a week, the 26-year-old former Marine pulls on fatigues and combat boots and reports at 0500 hours to Pure Power Boot Camp in New York City. His mission for the past year has been to whip stock brokers, lawyers and other professionals into shape, military style.
"On your faces! Give me 20!" Mr. Belliard shouted at a row of sweat-drenched recruits one recent morning. They dropped to push-up position and began counting in cadence. "I can't hear you!" he barked, cursing. "We've got five laps for not counting loud enough." His class rose and began to run. "Oh, hell no! Faster than that," he yelled.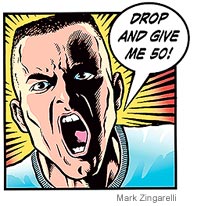 He's one of several Iraq veterans being snapped up by fitness entrepreneurs to run boot-camp workouts, a fad that's been growing in popularity. "Right now, any soldier or previous soldier can capitalize on their experiences in Iraq," says Ken Weichert, 38, an Army National Guard sergeant who served two tours in Iraq and now runs boot camps in San Francisco.
Linda Taix, who runs Extreme Boot Camp in the Los Angeles area, says authentic soldiers bring "a realistic air" to classes and "are good at keeping cadence."
"If you haven't lived the experience of the military, then you shouldn't be teaching a boot-camp class," says former Army scout Michael Lawson, 37, who leads grueling 90-minute workouts at his Seattle-based outdoor boot camp. "I take my commando experience and give the people a good dose for a day."
When Lauren Brenner opened her Pure Power camp in Manhattan's hip Chelsea neighborhood earlier this year, she wasn't interested in hiring personal trainers or aerobics instructors. Instead, she went to a U.S. Marine Corps Reserve Center outside the city. "Nothing motivates like a soldier yelling at you," insists Ms. Brenner, a former tennis pro and Wall Street trader.
If a Pure Power participant skips a session, the four active-duty or former Marines who run the sessions have been known to show up in full uniform at the boot-camper's workplace, demanding an explanation.
After Brian Paquette missed two Pure Power classes, Ms. Brenner herself appeared at his apartment in camouflage at 6 in the morning. "She yelled, 'Get in your fatigues and get down here,' " recalls Mr. Paquette, 34, an assistant dean at Columbia University. "It might seem excessive, but I've stuck with it ever since."
Half of gyms surveyed by a trade group in 2002 said they offer workouts that they call boot camps. Purists argue that true boot camps can be taught only by those who have been through military basic training. The purist sessions often take place outdoors, in rain, snow or heat. They mix cardiovascular and strength training, and feature old-school exercises such as push-ups, sit-ups and pull-ups. Drill instructors can make $45 or more an hour leading group classes, or up to $100,000 a year by running their own personal training businesses.
"It's nice to have employers seeking soldiers when they come back from combat," says Michael Izady, a cultural trainer to the Special Forces employed by the U.S. government. "Nothing's harder than going from colonel to cab driver."
Joseph Goetz, a Marine Corps sniper who served in Tajikistan during the conflict in Afghanistan, began teaching at Ms. Taix's boot camp in the posh Los Angeles suburb of La Cañada in 2002. After fighting a war, he says, it can be tough to put up with civilian complaints.
"You could be sitting in a dirt fighting hole in Tajikistan, but you live in prissy La Cañada, so you have nothing to whine about," he recalls telling boot campers. "I'll be damned if I'm going to let people walk away from this thinking they could go through anything like what I went through."
After huffing up 12 flights of stairs recently carrying a 18-pound bar masquerading as a rifle, Michael Pozner, a 49-year-old lawyer and business consultant in Manhattan, asked Pure Power's Mr. Belliard, the instructor, if he could get a sip of water. "Oh, hell no!" Mr. Belliard snapped back. "You must have lost your mind. Who said water break?" A panting Mr. Pozner, his fatigues drenched, kept moving.
"I'm not into the war, but I certainly respect the guys that go fight there," Mr. Pozner, who paid $929 for six weeks of four-day-a-week sessions, said later. "I love the fact that they're authentic and they've actually gone through this."
Tony Ludlow, 48, a former Marine Corps drill instructor, acknowledges that there's a big difference between Marines in basic training and civilians preparing for swimsuit season: "Marines are 18-year-old kids and they're being trained for combat. They have no choice. But these are 35-year-old professionals who can get in their BMWs and drive away whenever they want."
He says he laid off the verbal abuse in 1999 when he founded the U.S.M.C. Fitness Boot Camp, a workout program for civilians in Memphis. His outdoor course features uphill runs, "dive bombers" on thick grass and plenty of push-ups, but no insults.
Still, aggressiveness is part of what makes basic training effective, says Tim Bockelman, physical fitness adviser at the Marine Corps Recruit Depot at Parris Island, S.C., where the youngest Marine recruits go for basic training. He says antagonistic drill instructors serve a purpose.
Everyone "can push harder than our minds will allow us to," Mr. Bockelman says. "The right drill instructor can tap into that."
When Mr. Weichert, the National Guard sergeant, showed up at a San Francisco health club eight years ago in full military gear and proposed a basic-training-style workout program, the owners were skeptical. But students slowly began to sign up.
After he returned from Iraq last year, he saw his workout business boom. His Strategic Army Training, or START, fitness program now offers three boot camps a day, with about 70 people per class. The camps mix martial arts, Army calisthenics such as jumping-jacks and military chanting. He now has a line of "Sgt. Ken" fitness DVDs.
Seeley Vitacco, a 32-year-old marketing executive, enlisted in Sgt. Weichert's program last March. She says the war in Iraq gave her a new respect for the military. "Sgt. Ken's class represents all the good things about the military that people in San Francisco might not know," she says.
Last January, Brian Nathan signed up for FitBoot: Basic Training for Professionals. The early-morning, outdoor program is held along the Charles River in Boston and is led by a former Marine.
"I work with investment management firms, so when I come into the office in the morning people are already yelling," says Mr. Nathan, 31, a salesman for a company that makes electronic-trading software. "Ever since boot camp, I'm like, 'Bring it on!' "
Write to Amy Chozick at amy.chozick@wsj.com